At St. Stephen's, we take great pride in our school – families from generation to generation have returned to be educated here.  Over 400 pupils currently attend our school, which, although located in the Parish of the Cathedral of the Most Holy Trinity, continues to attract families from all over Waterford City and County, as many boys are following in the footsteps of their fathers, grandfathers, and even great-grandfathers, who were pupils in St. Stephen's through the years.

There is a real family spirit here that spurs us on to do our best and achieve all that we can. Of course, we remain true to the ideals that were laid down hundreds of years ago by our Founder, St. John Baptist De La Salle. Read our Mission Statement here, or see a gallery with photos of our school here.
Waterford City is the oldest city in Ireland. The old Norman walls which protected the city in the Middle Ages are still mostly standing. Part of these walls run through our school, and we also have a fully intact tower on the grounds – the Semi-Lunar Tower. Waterford City Council's website gives an historic look at the City Walls. You can see a map of the old city walls on the right (photo from Waterford City Council website):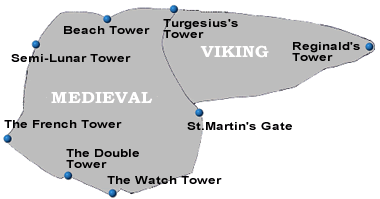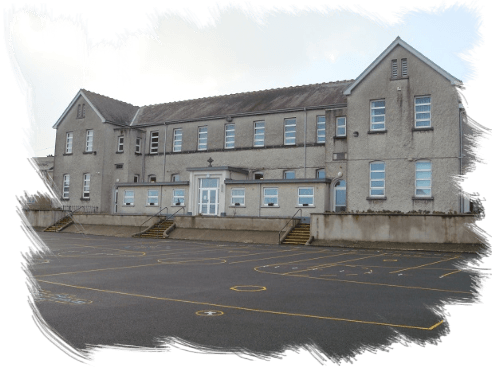 The walls were built by King John in 1215, who also gave Waterford its first mayor and corporation. The walls were used to defend the city against intruders and attacks. In fact, so well built were the walls, that invaders failed on numerous occasions to invade the city, leading to the granting of its motto from the King of England, "Urbs Intacta Manet Waterfordia", which means, "Waterford remains the untaken city." This still forms part of the crest of Waterford today. Behind the old city walls is the garden and Brothers' fishpond. When the De La Salle Brothers came to Waterford, this garden was part of the Widger family's home trade business. They had stables there and also at Mayor's Walk, Manor Street, and Newgate Street. Markings and traces of where the stables stood can still be seen on the Semi-Lunar Tower and also on the walls. Some of the rings for tethering the horses are still embedded in the walls too.
In 1887, on the invitation of Dr. Phelan, the De La Salle Brothers came to Waterford to open a National School. The first Principal was Brother Patrick McSweeney. The members of the first staff were all under the age of 20. Mr. George Nolan commenced the building of St. Stephen's Senior School in 1897 and it was completed by 1898. The total cost of the school was £5,885. In 1907, the Brothers purchased a derelict property from St. Stephen's Senior School north to Patrick Street. On this celebrated site was built the handsome Junior School and the De La Salle Brothers' Monastery – at a cost of £4,500 – and this was completed in 1908. The monastery still stands today, and is an iconic part of the skyline of the upper part of our city, just off Ballybricken.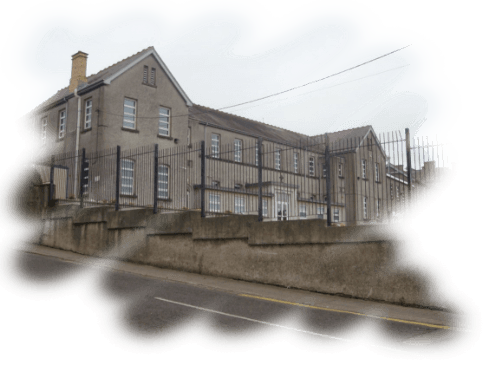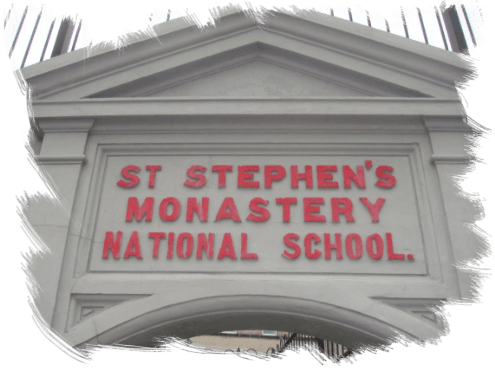 Our school celebrated its centenary in 1987, and continues to be a thriving centre of educational excellence – and was one of the last schools in Ireland to be run by the De La Salle Brothers. The final Brother in charge, Br. Martin, retired in June 2010, and left behind a lasting legacy of care for others, by setting example for everyone to follow, as indeed St. John Baptist De La Salle did when he founded the Brothers hundreds of years ago.
You can read all about St. De La Salle on our Founder page, which also features pictures and quotes from the patron saint of teachers. Over 400 pupils currently attend the school, which is also the home of the De La Salle Cub Scouts.
There is a strong link between the De La Salle GAA Club and our school which goes back to the foundation of the GAA club. The club was founded in 1927 by a young brother from St. Stephen's, Br. John Murphy, from Kildare. This link between the club and school continues to this day. The club helps organise hurling leagues in the yard after school with Peter Galvin and Br. Frank in charge, while coaches from the Club regularly take the junior classes for coaching sessions in hurling and Gaelic Football. The club also grants the school generous access to the club's grounds at Cleaboy for school activities, including our annual Sports Day, which is held each year in June.

Our former principal, Mr. Morris, is a former footballer with the De La Salle GAA Club and also managed the club's Under 21 Football Team. Past pupils of our school who went on to serve club and county with distinction are John Barron, Noel Dalton, Sonny Walsh, Davey Duggan, John Mullane, Jake Dillon, and Shane McNulty, to name but a few, with Adam Farrell and Shane Ryan returning to visit in 2013 as part of both the Waterford All Ireland Minor Hurling Championship winning panel and the De La Salle GAA County Minor Hurling Championship winning panel. There will surely be many more past and future pupils in this position in years to come!
St. Stephen's is now a wonderful contrast of the old meeting the new. While our school building itself is old, our school is embracing 21st Century learning technologies. We have a set of classroom iPads to help with teaching and learning, our website is constantly updated with news and activities from our school, one of our classes runs an internet radio station, many classes participate in lessons with classes and schools around the world via Skype and Google Hangout, boys make films and enter them into national competitions, and we showcase pupil achievements and school happenings on various platforms, such as Animoto, YouTube, Soundcloud, Vimeo, to name but a few. In December 2017, St. Stephen's was awarded Digital School of Distinction status, the first school in Waterford City to achieve this honour. In November 2018, St. Stephen's became the first school from Waterford to win an award at the national FÍS Film Making Awards in Dublin, taking home the award for Outstanding Achievement in Film Making for a Documentary, before being Highly Commended in the 2019 FÍS Film Awards and winning the Storyboard Competition in 2020, followed by further FÍS wins in 2021 and 2022. We make every effort to keep up to date on new and emerging technologies, to make sure that St. Stephen's is at the forefront of using those technologies for the best teaching and learning that we can offer!
Originally written by Tony Colfer (edited and updated June 2020).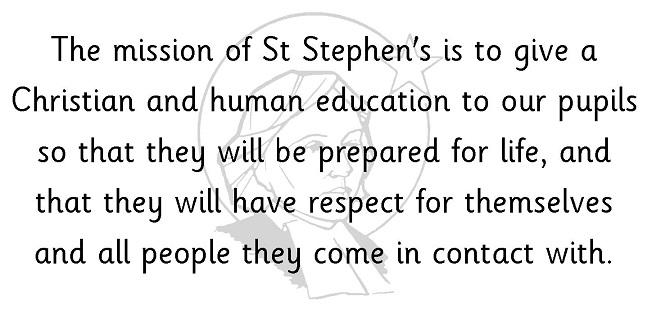 Browse the gallery below to see different views of our school!
Some additional images have been made available to us by the National Inventory of Architectural Heritage. We thank the Department of Arts, Heritage, Regional, Rural and Gaeltacht Affairs for the permission to use these photographs.