The St. Stephen's pre-school was established in 1980. It is an integral part of St. Stephen's De La Salle BNS. Our pre-school class has two qualified teachers.
Caroline Elliot (Pre-School Manager)


TBC
The pre-school operates within the academic school year. Our opening times are 9:00am to 12:00pm Monday to Friday.
All pre-school staff are Garda vetted and have the mandatory childcare qualifications. In addition, the staff regularly participate in ongoing training provided by the Waterford City Childcare Committee (WCCC). The staff have also trained in Síolta, The National Quality Framework for Early Childhood Education. St. Stephen's implements the principles of Aistear, the pre-school curriculum, in conjunction with the NCCA (National Council for Curriculum and Assessment).
The philosophy in St. Stephen's pre-school is that children learn through play, in a caring, safe, and fun environment. All of our activities are conducted with this in mind. We help the boys to develop their fine motor skills with activities such as threading beads and using peg boards. Cognitive development is stimulated by playing with blocks, Duplo, stickle bricks, painting, and drama. In a structured, but play based way, the boys are introduced to the concepts of numbers, letters, and colours. Oral language is a part of everyday activities, as the boys are encouraged to give their news and share with the other boys.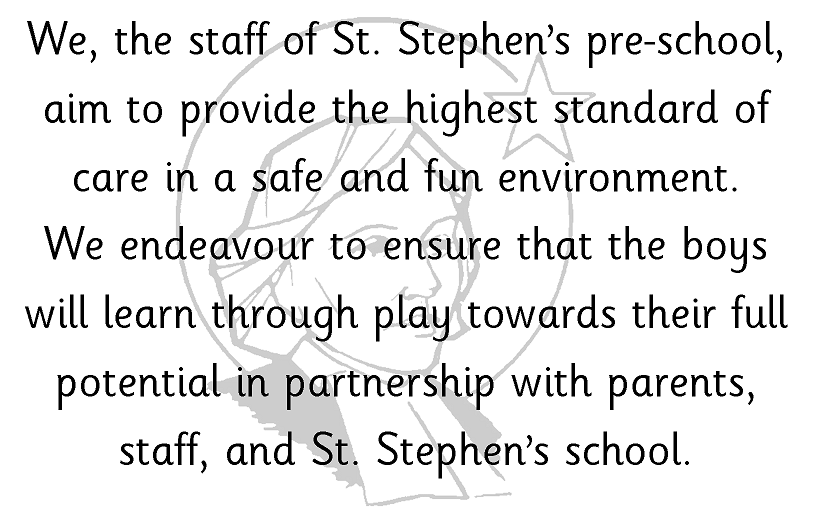 Check out these activities from our class:
Sorry, there are currently no activities from the St. Stephen's Pre-School to show at the moment. Please check back again soon!